Source: Save The Children website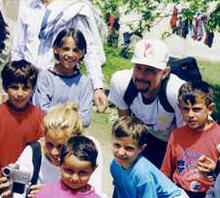 In April, actress Maria Bello traveled to Albania, bringing healing recreational and educational activities to the refugee children of Kosovo. Back in November of '98, she and a team of educators and artists (Andrea Bendewald of "Suddenly Susan," Leigh Kilton Smith, an acting teacher and director, Chris Bello, actor and artist, and Brad Falchuk, writer) had traveled with Save the Children to Nicaragua to work with the children who were displaced by Hurricane Mitch. The team provided two-hour sessions, involving hundreds of kids at a time, in games, art, and drama activities. The children played duck-duck-goose, painted, laughed, and sang. It was a very important reminder to the children and the whole community that there was still hope. Maria Bello has now brought the joy of play and stirrings of hope to the children of Kosovo.
Creative Play an Hour a Day:
Tirana, Albania - April 27, 1999
I have been in Albania for three days with Save the Children. With Richard Hoff, the organization's director of development for the West Coast, I come here with the support of our community in LA to provide some recreational and educational supplies and to help to set up "model creative play programs within the camps." We are seeing firsthand that it is much needed.

After three weeks of living in a tented camp in Tirana, the Kosovar refugee children are using rusted tin cans as soccer balls and tampons as floating toys. Though they have experienced tremendous trauma being forced from their land, their houses burned, family members hurt or killed — the children carry an infectious joy while playing with these makeshift toys. Soon, however, boredom sets in and they are looking for anything to entertain themselves. A small tent school is in the process of being constructed, but they have no notebooks, no pencils and no textbooks to use. So, the children are left to fend for themselves -and try to recreate some kind of normalcy in their lives.

The staff of the International Save the Children Alliance (U.K., U.S., Denmark, Sweden, and Norway) is working here around the clock to provide educational/recreational and psychosocial services to tens of thousands of Kosovar refugee children that have been displaced. While waiting for huge shipments of school supplies to arrive, Save the Children is now distributing emergency education kits to the camps. Richard and I have worked in three camps — one here in Tirana, another a half hour away in Mullet, and one in Kavaje, one hour from Tirana, trucking in notebooks, pencils, pens, and books. All the staff are working hand in hand with Kosovar leaders and parents from the camps and Albanian social workers to efficiently and quickly set up schools.

Just as important as educational programs are the recreational activities that are being established. The children have been through so much that it is vital that they begin to express themselves, both through physical activity and art. I bring some experience to the recreational and creative as I co-founded an Arts in Education program in New York City, so we both have some experience with "creative play."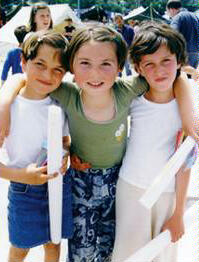 Because of the tense situation here in Albania, it was impossible to bring in a whole team. Instead, we recruited older teens and young adults within the camps to continue the play programs that we introduced. For instance, yesterday we went to the Mullet camp. We brought hundreds of notebooks and pens to the teachers and introduced an informal art project. We laid down a big sheet of plastic on the dirt and spread out large sheets of paper. The teens we recruited helped us to mix powder paint and to distribute sponges to paint with.

Soon, over 200 children joined in to paint pictures that they told us "made them happy." There were houses, flowers, and Kosovar slogans. After they were finished, both the children and some of their parents hung the brightly-colored pictures with pride. At the end of our time, we left the remainder of the art supplies in the camp and the teens promised to continue the arts activities.

With the help of Save the Children Alliance, the Kosovar children soon will be enjoying school and play again. No more rusty cans and other makeshift toys, but real soccer balls, paints and paper, and books to help reaffirm their hope and future.