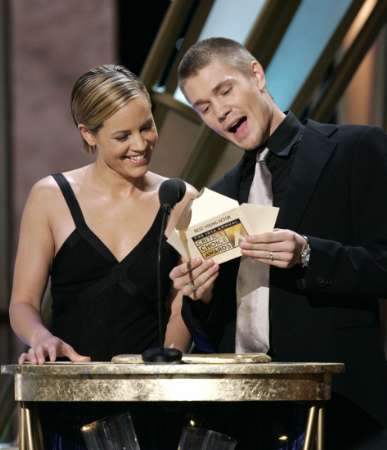 Maria Bello (L) and Chad Michael Murray present the award for best young actor during the 10th Annual Critics' Choice Awards at the Wiltern Theater in Los Angeles January 10, 2005.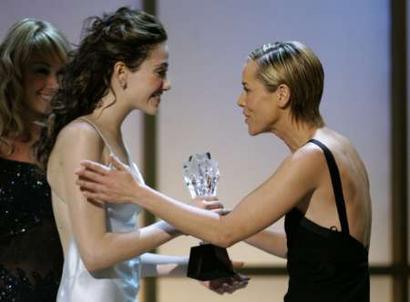 Emmy Rossum (L) accepts her award for best young actress from presenter Maria Bello (news) during the 10th Annual Critic's Choice Awards at the Wiltern Theater in Los Angeles, California, January 10, 2005.

From: contactmusic.com
BELLO BONDS WITH HER DAD AT TATTOO PARLOUR
THE COOLER star MARIA BELLO recently had a bonding experience with her 62-year-old dad - they had their very first tattoos together.
The actress opted for something "tiny and secret" on her bottom, while her father chose to pay honour to his favourite American football team, the SUPER BOWL-bound PHILADELPHIA EAGLES.
She says, "We went to the corner bar, had a couple of beers, some shots of JACK DANIELS, went across the street to the tattoo parlour.
"My dad said, 'I'm going to get something that I'd love to die with'... the PHILADELPHIA EAGLES and a big emblem of the eagle on his arm."

Congratulations to Maria on her Golden Globe nomination for Best Supporting Actress for her role in The Cooler.


Press Release:

"You think I'm tryin' to compete with that?"
— Alec Baldwin, as Shelly Kaplow in The Cooler

Diana Krall, N'Sync's Joey Fatone, Bobby Caldwell and more headline the Commotion Records soundtrack to The Cooler with extended selections from the score by composer and trumpeter Mark Isham.

(New York/October 8, 2003) The Shangri-La is the last of the old-school Las Vegas casinos, where hopes and dreams ride on a roll of the dice, and love is the only saving grace for desperate people who've been dealt a hand from the bottom of the deck...

Wayne Kramer's directorial debut The Cooler, due out on November 19th in New York and Los Angeles (and on December 19th nationwide) through Lions Gate Films, stars William H. Macy, Maria Bello, and Alec Baldwin. The Cooler is a cool, gritty, tense and at times even hilarious drama set against the backdrop of Sin City and the Shangri-La. The film's soundtrack will be the rollout release for Commotion Records, a brand new label co-founded by legendary music industry veteran Walter Yetnikoff and music supervisor and powerhouse label executive Tracy McKnight.

"I saw this film at the Sundance Producers Conference in August," McKnight recalls, "and I loved the movie. I mean, from the opening cue, I thought, this music is spot on—it's smart, it's well placed, and Mark Isham's score is fantastic. It's the perfect soundtrack to launch our label, and I'm really proud to be associated with it."

"I am very excited to be working with Tracy and Commotion Records," says Joel C. High, Vice President of Music for Lions Gate. "Their enthusiasm and experience in the film music world make them a great home for this soundtrack."

Mark Isham is the Academy Award®-nominated and Grammy Award®-winning composer behind the music of such acclaimed films as A River Runs Through It; Romeo Is Bleeding, Quiz Show and Moonlight Mile. One of the first pictures for which he wrote and performed the score was The Times of Harvey Milk, winner of the 1984 Academy Award® for Best Feature Documentary. For The Cooler, Isham had several distinctively romantic moods in mind for the music. "This is a score that embraces the classic sound of swing that personified old world Vegas," he says, "and I wanted to mix that with musical themes that reflect the warm and intimate relationship between the main characters."

An intimate, Vegas-style lounge feel courses through the vocal performances on the soundtrack, mirroring the classy sophistication and style of the film. Diana Krall renders a steamy rendition of the jazz standard "I'll String Along With You," while Bobby Caldwell channels the spirit of Frank Sinatra on the casino classic "Luck Be A Lady." Actor Paul Sorvino hits an ironic vein, so to speak, in "Getting To Be A Habit With Me"—in the film, he plays Buddy Stafford, a strung-out lounge singer whose addiction to heroin puts him at Shelly's mercy. Joey Fatone (from 'N Sync) plays Johnny Capella, the young upstart who steals Buddy's gig with his performance of "Can I Steal A Little Love." And no story of the Vegas nightclub and casino scene would be complete without "My Funny Valentine," delivered with smoldering cool by up-and-coming jazz siren Tierney Sutton.

The Cooler soundtrack CD will be released on November 11, 2003 on Commotion Records in partnership with KOCH Entertainment.

For more information contact: cinemediapromo@yahoo.com.

Maria will be a guest on The Sharon Osbourne Show on Thursday, November 27th. Check your local listing for airtime in your area.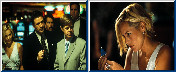 THE COOLER, the much anticipated Oscar contender starring William Macy in perhaps his finest performance, Maria Bello in a breakout role as a struggling cocktail waitress, Alec Baldwin in his sharpest, most vicious role since Glengarry Glen Ross, and Paul Sorvino and Ron Livingston in key supporting roles. The film hits New York and Los Angeles on November 26th and in theaters December 19th.
Official THE COOLER Website – http://www.thecoolermovie.com
Listen to the amazing THE COOLER soundtrack – http://www.thecoolermovie.com/cooler_sndtrk.html
THE COOLER Trailer Links – Windows Media
Small:
http://mfile.akamai.com/3321/wmv/cinemanw.download.akamai.com/3321/lge/cooler/trailer_56Kbps.asx
Medium:
http://mfile.akamai.com/3321/wmv/cinemanw.download.akamai.com/3321/lge/cooler/trailer_150Kbps.asx
Large:
http://mfile.akamai.com/3321/wmv/cinemanw.download.akamai.com/3321/lge/cooler/trailer_300Kbps.asx
THE COOLER Trailer Links – Real Media
Small:
http://mfile.akamai.com/3321/rm/cinemanw.download.akamai.com/3321/lge/cooler/cooler_trailer_56Kbps.ram
Medium:
http://mfile.akamai.com/3321/rm/cinemanw.download.akamai.com/3321/lge/cooler/cooler_trailer_150Kbps.ram
Large:
http://mfile.akamai.com/3321/rm/cinemanw.download.akamai.com/3321/lge/cooler/cooler_trailer_300Kbps.ram

9/19/03...
Maria is slated to star in Silver City, currently in pre-production. Click HERE for more details.

New movie project for Maria in pre-production...click HERE for the details.

Source: Independent Film @ IMDb.com - http://indie.imdb.com/

Sundance Sortas
There's been a number of quite-nice-but-not-quite movies here at the Sundance festival this year. Lion's Gate snapped up the crowd-pleasing The Cooler, which stars William H. Macy as Bernie Lootz, a man so unlucky he's employed by a ruthless casino owner, played by Alec Baldwin, to alter the fortunes of any gambler on a winning streak, merely by his presence. Though the leads, including Maria Bello, are all superb there's a few missteps, including Bernie's errant son appearing then disappearing without explanation, that lead to a lot of stumbling. Dopamine, about a computer programmer who creates an artificially intelligent creature, then falls in love with the schoolteacher who has to product test his program, shuts down in a blur of talk. Amidst the Philosophy 101 blather, however, lead John Livingston (the younger brother of a personal favorite, Ron Livingston) appears to have the charisma to play both funny and romantic, a rarity these days. Oddly enough, Ron Livingston has a supporting role in The Cooler.
- Keith Simanton

Source: imdb.com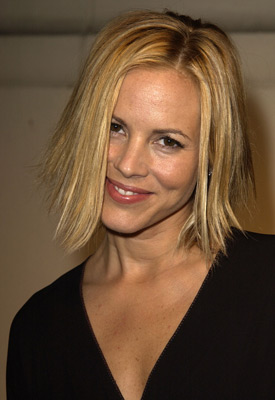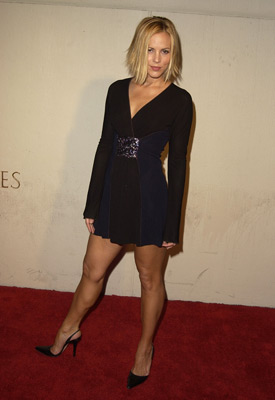 Dream Foundation - Le Cabaret des Reves - Fundraiser

Source: Yahoo! News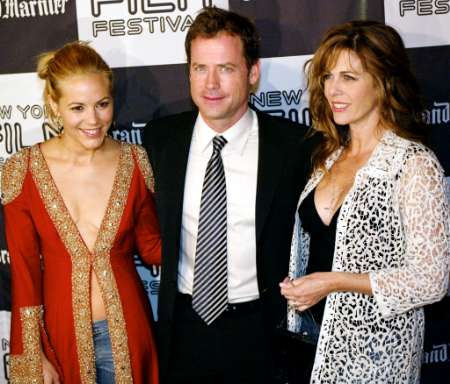 Cast members of the new film "Auto Focus" pose for photographers as they arrive at the New York Film Festival for the premiere, October 4, 2002. Actor Greg Kinnear poses with co-stars Maria Bello (L) and Rita Wilson. The film will open in the U.S. on November 1. REUTERS/Jeff Christensen

Source: Fansites.com
Actress MARIA BELLO at the world premiere, in Los Angeles, of The Four Feathers.

http://www.sonyclassics.com/autofocus/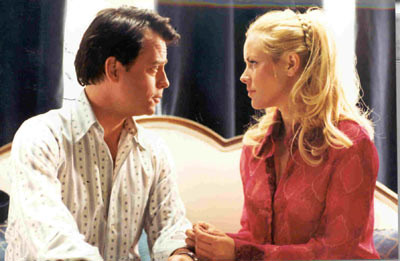 In a remarkably short time, MARIA BELLO (Patricia Crane) established herself as a new leading actress with a formidable and beautiful presence. Bello segued effortlessly from the spy-adventure series, "Mr. and Mrs. Smith" (opposite Scott Bakula) into not only a leading role on NBC's award-winning drama "ER" but as a leading lady on the big screen.
Maria, best known for her Screen Actors Guild Award winning, leading role on "ER" as the passionate and headstrong pediatrician Dr. Anna Del Amico, has quickly emerged as one of Hollywood's up and coming film stars.
She co-starred in "Permanent Midnight" with Ben Stiller and Elizabeth Hurley, and she also co-starred with Mel Gibson in Paramount's "Payback." Shot simultaneously during production of "ER," Bello played the female lead to Gibson's past and present encounters.
In 2000 she appeared in the film "Duets" with Gwyneth Paltrow, Huey Lewis and Scott Speedman. She also starred in Jerry Bruckheimer's highly anticipated "Coyote Ugly," portraying Lil, a tough talking entrepreneur who owns a Western style bar in New York City called Coyote Ugly.
In the fall of 2000 Bello returned from China where she was filming a special project, which was presented on the IMAX® screen called "China: The Panda Adventure." It is the true story of one woman's incredible struggle to survive in the mysterious Chinese jungle, her determination to fulfill her late husband's destiny and her efforts to protect one of the world's rarest animals. Based upon Ruth Harkness' autobiography Lady and the Panda, "China: The Panda Adventure" combines spectacular images of a foreign land and breathtaking scenes with Giant Pandas, with this incredible true story of hope, courage and triumph of the human spirit. It was released on the giant IMAX screen in the spring of 2001.
Prior to "Auto Focus," Bello filmed the dark comedy "100 Mile Rule," a story, which revolves around three salesmen from Detroit who come to Los Angeles for a seminar and become entrenched in far more than they ever imagined. "100 Mile Rule" is set to hit theatres later this year.
Bello's extensive theatre credits include the world premiere of "The Killer Inside Me," as well as "Smart Town Gals" at the Currican Theatre, "Big Problems" at the Theatre for New City, "Urban Planning" at the Theatre del Barrio, "A Lie of the Mind" at Columbia University, "His Pillow" and "Out of Gas on Lover's Leap" at T. Schreiber Studios, "Big Talk" at the Double Image Theatre, "Talked Away" at the West End Gate.
Bello also co-founded the Dream Yard Drama Project for Kids, a not-for-profit arts and education program for children in Harlem. Maria has toured Africa and Asia while continuing her studies in conjunction with her arts and education program for children.

Maria's show " The Governor" apparently was not picked up as a fall series, but we still have her three movies to look forward to: "The Cooler", "Auto Focus", and "100 Mile Rule".

Source: Yahoo! News
April 16, 2002
Former "ER" thesp Maria Bello is set to star opposite William H. Macy, Alec Baldwin and Shawn Hatosy in Content Film's "The Cooler," written and directed by Wayne Kramer. Bello plays a cocktail waitress at a Las Vegas casino who falls for Macy's character. Shooting begins this week. Bello, who last starred in "Duets" and "Coyote Ugly," next shows up in Paul Schrader's "Auto Focus" for Sony Pictures Classics.