Fall Fashion 2000 - Volume 2 / Number 4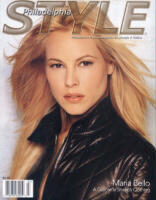 Maria Bello's career has been moving so fast in the last couple of years that even her own hair is getting left behind. "I had an emergency at the beauty salon," explains the star, who many of us know from another emergency setting, NBC's award-winning drama, ER. "My hair in the last year and a half has been red, blonde, brown and then blonde again, and it usually takes color really well. And this time, it just burned off," she says, as she shows us the hair extensions she has brought along to the shoot.
Her hair looks fine to me, but this budding movie star does not miss a beat. From her hair to her face ("I like a warmer base, a little bronzy, a warm glow--is that cool?" she asks the makeup artist) to her take on life from the standpoint of a 33-year old Norristown native with back-to-back feature films out this month., Maria Bello seems to have everything under control.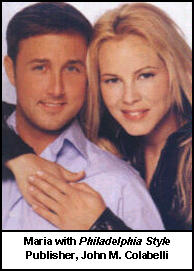 Bello, who comes from a big, blue-collar, Polish-Italian family, had "no leg-up" in Hollywood, but natural talent and dogged determination led to a dream come true. The roles that have take her hair through a rainbow of doctor, addict, bartender, and hooker hues include Dr. Anna Del Amico in ER, Kitty in Permanent Midnight (co-starring with Ben Stiller), Rosie in Payback (co-starring with Mel Gibson), and two new films: Jerry Bruckheimer's highly anticipated Coyote Ugly and director Bruce Paltrow's Duets (starring with his daughter Gwyneth).
Bello is getting excited for the Coyote Ugly premiere, which is a couple of days away. Her parents, grandparents, and siblings will make the trip up to New York from Philadelphia to attend the event, and her boyfriend (Dan McDermott of DreamWorks Television) is flying in from L.A. What will they get to see the typically tough-girl Bello do this time? Some dancing on bars (along with fellow bartending beauties, including Piper Parabo, Bridget Moynahan, and supermodel Naomi Campbell), some drink swilling and slinging, and, if her track record is any testament, a show-stealing performance by Bello.
"It's about a small-town girl who does good," says Bello. "A young girl comes from New Jersey and she wants to hit the big time. She's a singer and songwriter and I hire her at my bar, Coyote Ugly, which is actually a real bar in New York City. It has a biker bar meets southern rock feel--lots of leather and chains and motorcycle boots, and it's all women who work there. The young women own the bar, are in charge of the bar, and basically don't take any shit."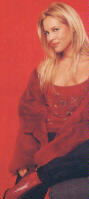 Bello says she trained for this role for ten years, as she tended bars all over Philadelphia and New York City in the days when feature films were not falling at her feet. "So you did pay your dues?" I ask. "I sure did," Bello says solemnly, "and I still am. There's really never a point of arrival. I mean you have those fleeting moments when you're at a premiere, but then the next day it's like, 'Okay then, what else?' And I spent the first eight years never working. I was doing theater, I was doing commercials, but really not getting paid for it. Just waiting tables, bartending, cleaning houses, picking up dog shit, living in a basement, and not having money for the subway basically."
While this description sounds like the typical actor background, Bello did not always dream of acting, nor did she star in any high school plays in Norristown. "Our school didn't have any plays, and I didn't know anyone who was an actor," explains Bello. The closest she got was directing her sister, brothers, and cousins in shows they would put on for the family--that is until an eye-opening acting elective in college.
"I went to Villanova University and I studied political science and pre-law. In my junior year someone told me to take an acting calss and I loved it. My teacher immediately told me that I should have a lot of faith in my ability," recalls Bello. And have a little faith she did; instead of heading onto law school after graduation, Bello hit the Big Apple. While she struggled to make ends meet, the small-town girl was hooked and never wavered about her career decision. At 28, she moved to Hollywood, and that's when we became acquainted with the budding star, particularly in her leading role as Dr. Anna Del Amico on ER. Let's pick up with Ms. Bello here, where the small-town girl starts to realize those big-time dreams.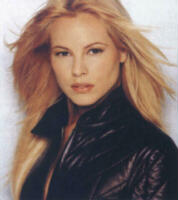 MB: When I got to L.A. I started working almost immediately. I got a great break--it was a pilot for the WB network called 77 Sunset Strip--and I haven't stopped working since.
JJ: Which movie role has been your favorite so far?
MB: I would say Kitty in Permanent Midnight, working with Ben Stiller.
JJ: What was he like to work with?
MB: Really great. Really intense. The guy is so focused and such a hard worker, and basically for our parts, we were in a motel room for two months at a time. So it was really intense and I found myself relating to that character more than any other character.
JJ: Who is your favorite actor to work with?
MB: Mel Gibson, hands down. He's a great man. He's so kind and so funny, but more than that, he's open. Payback was one of my first movies and he didn't treat me like, "Oh god, here's this new girl." He respected everything I had to say and wanted to hear everything I had to say. He taught me without really teaching me. He wasn't in your face, "You should do this. You should do this." But he helped me so much, and I respect him as an actor and as a human being. He has this totally normal family with a lot of kids and a great wife--and I admire that he's able to do both, have this beautiful private life and be a star at the same time.
JJ: What was it like working with Gwyneth Paltrow in Duets?
MB:Great as well. Her father, Bruce Paltrow, directed the movie, so it was a real family affair. Her brother Jake was there the whole time, her mother Blythe--what a beautiful, beautiful family. You understand how this girl could win an Oscar and be so poised and beautiful and be such a great actress at such a young age because she grew up in this amazing family.
JJ: So how does Hollywood compare to Philly?
MB: Well, you take yourself with you wherever you go (chuckles). That doesn't really change much, right? There's a lot more breath of experience in Hollywood. I come in contact with more and more people who are living their dreams or have achieved their dreams, and that's inspiring.
JJ: I was just out there a month ago for a Tear Sheet party, and it's such a different world, such a fantasyland. You definitely feel a sense of being surrounded by dreams in the making, but maybe that's just because we have all these preconceived notions about Hollywood.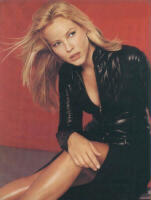 MB: We do have preconceived notions about Hollywood, but, I gotta tell you, some of them are true. Like that everyone has a charmed life; not everyone does, but a lot of people in Hollywood do. Most people I know, not that they don't have bad things in their lives or that they're completely fulfilled--I don't think anyone ever is--but most people are living their dreams or are certainly in that realm of possibility. And most of the places I've been in the world, that's not true. So it's great to be around it, but at the same time there's a lot of pressure.
JJ: What do you miss the most about Philly?
MB: The food. My family and the food.
JJ: What's your favorite Philly food?
MB: It's so typical to say, but I miss cheesesteaks. I miss hoagies, real Italian hoagies. I miss pretzels. After this weekend, we'll do down to the Jersey shore. My family has a house in Sea Isle City. My mother has been planning the menu for a month. And I can't wait to go get pizza on the Ocean City boardwalk.
JJ:Tell us about your work with kids.
MB: I co-founded the Dream Yard Drama program in Harlem eight years ago, but a few years ago I went off on my own direction. I've been traveling to countries all over the world, interviewing and photographing kids.
JJ: I saw some of your photos. They're amazing. They're really moving.
MB: Gosh, thank you so much.
JJ: Is photography a long-time hobby of yours?
MB: No.
JJ: You're just a natural at that as well?
MB: No, see I don't even think I'm a good photographer. I just think I love my subjects. I love kids, and I try to capture those moments that really move me--those moments when they're so full of life and joy, or a moment when a child looks like an 80-year-old man because he's been through so much. I went to Kosovo, I went to Nicaragua after Hurricane Mitch, I've been to India this past year. I just finished a movie in China actually. I was all over Africa. I love to travel, and I love to see kids and I want to know them.
JJ: I assume you want kids someday?
MB: I do. I'm with a great man now and we definitely want kids.
JJ: Who's the lucky guy?
MB: His name is Dan McDermott. We live together. We have a great house in Hollywood Hills and two dogs. He could be the most passionate man that I've ever met, and the first I felt like I could be myself with. He's an incredible human being. I've always been with jerky guys. They didn't cherish me. I didn't even know what that meant.
JJ: Any advice for aspiring actors?
MB: Keep it real. I can't stress that enough. It's not about becoming what someone else thinks you should be to become a great actor. They'll tell you to change your face, change your body, change your hair...but don't do it! I think the only way to be successful in your life, and by successful I mean having a fulfilling life, is to grow and change. But you need to keep that part of you--your soul--that you listen to and that you're not willing to change.
See Maria Bello in Coyote Ugly (now playing), Duets (to be released in September), and an upcoming IMAX film, CHINA: The Panda Adventure (spring 2001).
Correction: The magazine article lists Naomi Campbell as starring in Coyote Ugly with Maria, it should have been Tyra Banks instead.